AFTER THE PANDEMIC HAD AN IMPACT ON 2020, THE 314 WOODEN CHALETS ARE ONCE AGAIN SET UP ON THE COBBLESTONES IN THE ALSACE CAPITAL. THE HUGE CHRISTMAS TREE IS STANDING TALL ON PLACE KLÉBER, THE TRADERS ARE READY, WELL WRAPPED UP IN THEIR WARM CLOTHES, AND ALL THE LIGHTS IN THE CITY ARE READY TO SHINE. THE 451ST EDITION OF THE STRASBOURG CHRISTMAS MARKET CAN START!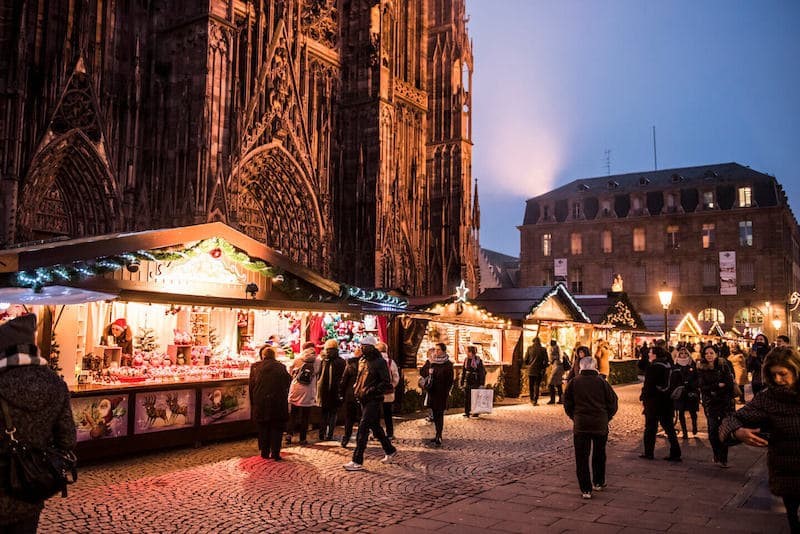 Several million visitors will be wandering the streets in the city from 26 November to 26 December. The theme this year is "Light up the stars" and the country of honour is none other than our friend and neighbour: Germany. The 2021 edition is highly anticipated after a year without chalets, and has several new features that not only those who live in Strasbourg will love, but also the tourists who can move around freely without safety "check points" or barriers. But that's not all of course, the City of Strasbourg, as well as the traders' associations and volunteers are set on making this edition a time of celebration and sharing. To do so they are counting on various events and the famous atmosphere of dreamsbeing back, that's so friendly, warm and special to this key tourist event in Alsace. Get your scarves and gloves ready while we take charge of telling you a few things about the 2021 Christmas market!
EVERYTHING THERE IS TO KNOW ABOUT THE 2021 CHRISTMAS MARKET!
This year, the Christmas market broadens out and finally ventures out of the Grande île to set up on the following 13 places: Broglie, de la Cathédrale, du Château, du Corbeau, Kléber, du Marché-aux-Poissons, des Meuniers, du Temple Neuf, Saint-Thomas, Benjamin Zix, on the terrace of the Palais Rohan as well as in rue Gutenberg and rue des Hallebardes. The market's inauguration which is being held on Friday 26 November, will be a walk you can take part in that will link the place de l'Etoile with the big Christmas tree on place Kléber, with participants carrying stars there. That will signal the start of the festivities and more than anything, that is when all of the garlands of lights in the city, as well as those of the Christmas tree, will light up at the same time. Whether you like this celebration or not, you always get taken back to when you were young when you see the streets of our city all lit up! 
 

THE MAIN EVENTS THIS YEAR
Did we tell you that this year marks the festivities coming back to Strasbourg? That's right, in 2021 the people of Strasbourg (and the City of Strasbourg) have gone all out in organising events that will also mark this edition. 
-    The historic Christkindelsmärik on place Broglie
-    The must-see place Kléber and its Big Christmas Tree, its numerous chalets and Village of Sharing.
-    Let's let up the stars: come along each Saturday at 6pm to see a new show around the Vauban weir
-    The market for all that's delicious in Alsace, on the terrace of the Palais Rohan, is the opportunity to try the traditional bredele, mannele, gingerbread, etc.
-    The Advent Village and Après Village, on Square Louise Weiss: a friendly and participative moment around Christmas traditions.
See the full programme: https://noel.strasbourg.eu/agenda
The favourite event of everyone who lives in Strasbourg is no doubt the Off Market, an "alternative" market that's more eco-friendly that takes place on place Grimmeisen (it sets up for the same dates and times as the Christmas market). There you'll find committed exhibitors who show us authentic and original objects, but also concerts, tastings or conferences on the themes of ecology, solidarity, buying sustainably and citizen action. You also watch shows and take part in workshops… so basically a host of moments to share, and at Christmas that all everyone wants.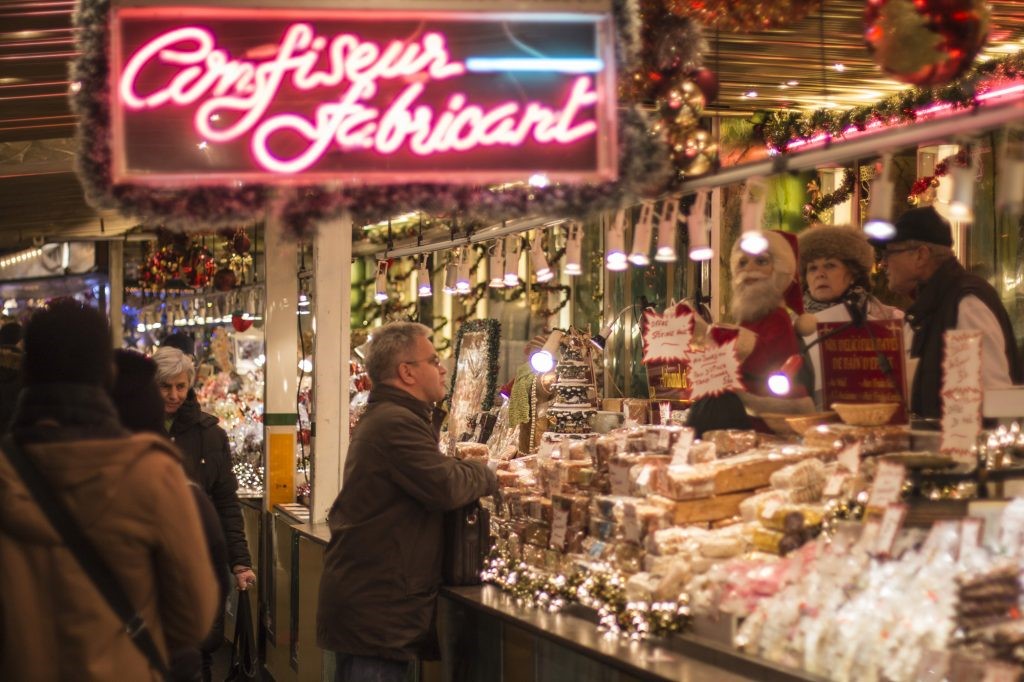 You'll have understood that the Christmas market is finding its feet again spectacularly and gradually forging a new version of itself. It's more spread out, more festive, more friendly, this year the City and Eurométropole of Strasbourg have rolled out the red carpet for young and old alike. For one month of winter the events that are set to take place all around the city will take us into a world that we had forgotten, a universe of scrumptious things to eat, lights, dreams and human warmth. We can't wait to see it all with a mulled wine to sip on!

The Christmas market opening times
-    from 11am to 8pm from Sunday to Thursday
-    from 2pm to 9pm on 26 November
-    from 11am to 10pm on Saturdays
-    from 11am to 9pm on Friday 3, 10 and 17 December
-    from 11am to 6pm on 24 December
-    from 2pm to 6pm on 25 December
-    from 2pm to 9pm on 26 December
Restrictions dues to Covid-19
-    Wearing a mask is mandatory.
-    Food and drink may only be consumed in the dedicated catering areas. Showing the health pass is required to access them.
-    It will be mandatory to disinfect your hands with hand sanitiser before touching objects on the stands.
-    Protective measures must be respected (social distancing, hand washing, coughing or sneezing into your elbow).
 
By: Bastien Pietronave
---
SEE OUR SERIES OF CHRISTMAS ARTICLES