Strasbourg Grande Île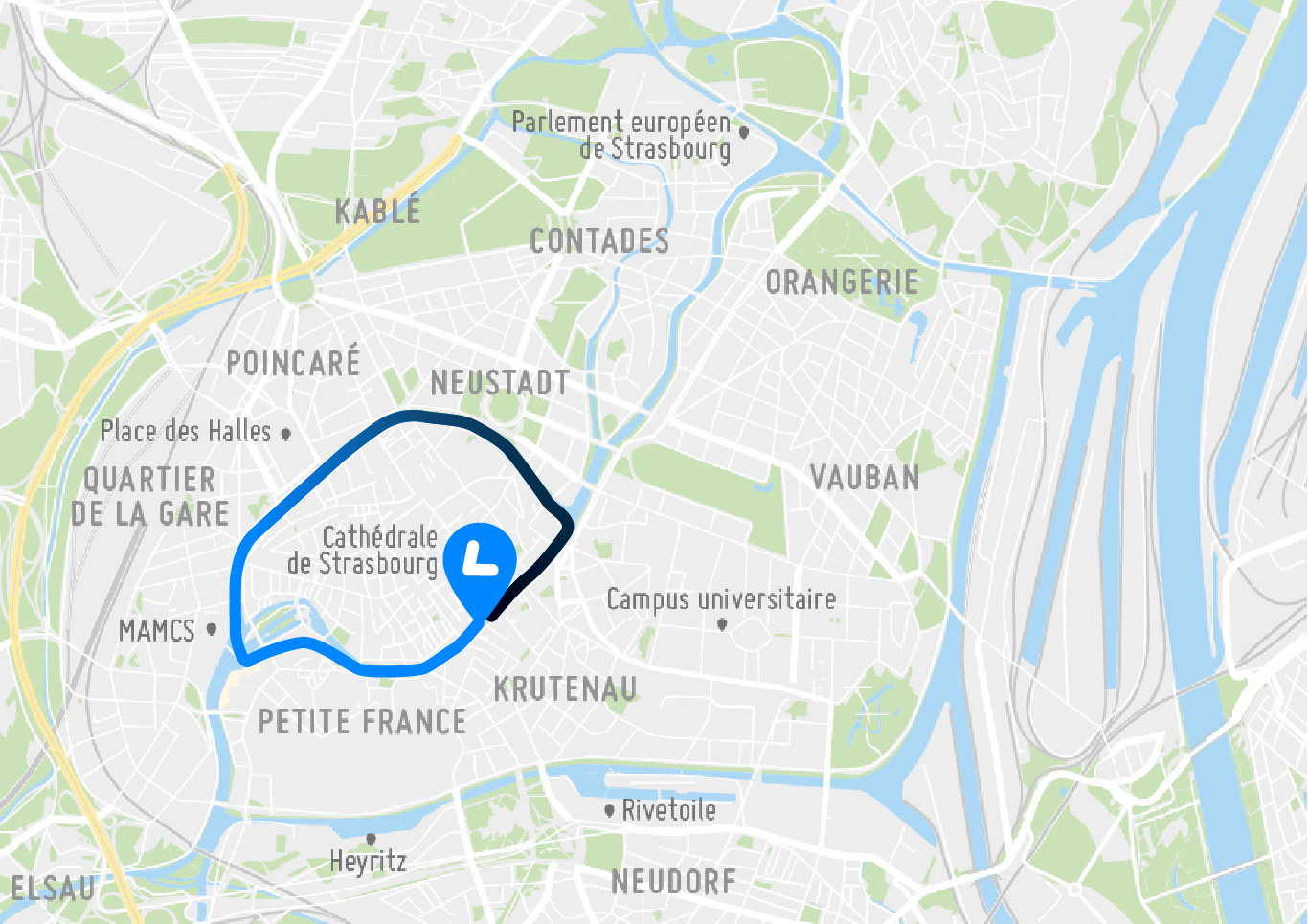 The true heart of Strasbourg, founded on the site of the ancient Roman camp of Argentoratum, the downtown area is a mixture of timbered houses, mediaeval architecture and mansion houses from the modern era. Notre Dame cathedral, which has just reached its millennium, sits there proudly.
A World Heritage Site
Declared a World Heritage Site in 1988, Grande Ile is the perfect example of a mediaeval city on the Rhine that has survived through the ages to become anchored in the contemporary era. This accolade was awarded by UNESCO due to the exceptional architectural quality of all the buildings in this relatively small area.
Historical monuments
Ideally located 150 metres from the cathedral of Strasbourg, your visit begins at our piers between Palais Rohan and Ancienne Boucherie, today the Historical Museum of the City of Strasbourg. No sooner have the moorings been cast than you discover Ancienne Douane and the Finkwiller district just outside Petite France. The first lock leads you into the heart of this neighbourhood of timbered houses under the spell of which it is impossible not to fall. Further on, you'll see the Ponts Couverts and the Barrage Vauban, the remains of the fortifications of the city under Louis XIV. Before passing through the second lock, you walk along the walls of the Commanderie Saint-Jean, whose renovated buildings have, since 1991, housed ENA (Ecole Nationale d'Administration).
Spend 45 minutes allowing yourself to be enchanted by the magic of the place and a unique view of the city.
Neustadt
Your cruise continues to the outer limits of the Neustadt, or "New Town", district, developed during the annexation of Alsace-Moselle (1871-1918) to transform Strasbourg into a capital worthy of the new Reichsland (imperial territory) and to welcome there its new emperors (no less than three Kaisers succeeded the throne during this brief period: William I, Frederick III and William II). The Saint Pierre Le Jeune church, the Palais du Rhin, the National University Library, the National Theatre or even the Church of St. Paul are characteristic buildings showcasing German architecture from this era.
Captain Hans Trapp and his parrot Coco are at the helm, so that you shipmates can discover the treasures of the river Ill. The audio guide in French, German, English and Italian provides your children with rich and playful commentaries and an age-appropriate story.
Audioguides broadcasting the commentary of the visit are available in 12 languages: