As part of the "pink October" operation dedicated to fighting against breast cancer, numerous events are being organized in and around Strasbourg. From 30 September to 2 October, you can be part of the 'La Strasbourgeoise', a sporting, festive and supportive event on the streets of the European capital.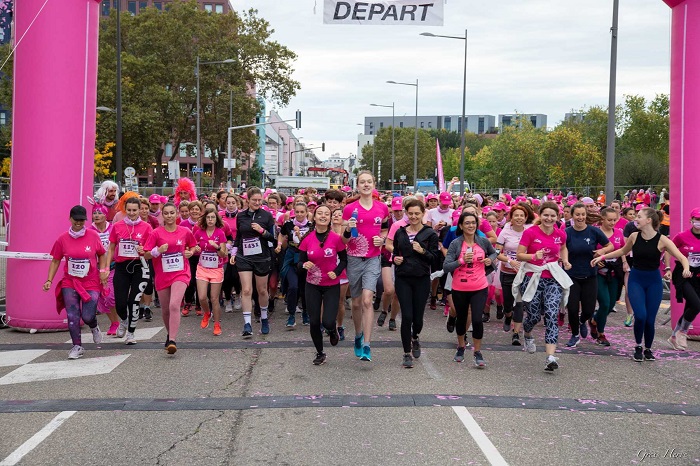 October often carries the label of dreariness, the return of rain and shorter days. But things are changing.
For more than 10 years, the month of October has made Strasbourg see life in pink! Under the banner of "pink October", volunteers mobilize to take part in the international information and awareness campaign to fight against breast cancer.
Breast cancer remains the most common cancer in women with more than 58,000 cases diagnosed each year. 1 in 8 women will be affected during their lifetime. 
It is therefore necessary to take action.
 
Strasbourg decided to join the movement in 2010 by organizing 'La Strasbourgeoise', a sports and solidarity event to fight against breast cancer.
But what exactly are the objectives of this event? What is the programme? And how did it manage to federate the surrounding territories to get them involved in this cause?
 
La Strasbourgeoise, a solidarity event to fight against breast cancer

La Strasbourgeoise is an event co-organized by the Office des sports de Strasbourg (OdS) and Association des Courses de Strasbourg Europe (ACSE), in partnership with Lilly, a pharmaceutical company.
This event serves as the launch of a vast worldwide information and awareness campaign against breast cancer.  
It aims to bring men and women together to fight against this terrible disease, which causes almost 12,146 deaths each year and is the leading cause of cancer deaths in women.
Breast cancer also affects men! 500 men develop breast cancer every year. An insidious disease that is often under-diagnosed and requires the mobilization of everyone.
In addition to the preventive measures, the Strasbourg women also emphasise their solidarity. Because the goal is also to raise funds for research. 
Thus, out of the €12 registration fee, €5 is directly donated to the fight against cancer. In 2021, more than €60,000 was raised.
. 
From the 30th of September to the 2nd of October, there will be sporting events accessible to all
This year, several types of events are being organised as part of 'la Strasbourgeoise' :
A 6 km Nordic walking event. Meet at the Heyritz park on Saturday 1 October at 11 am.
A canoeing event: a track of 5 or 11 km is proposed according to your level. A good way to discover Strasbourg in a different way. starting on the 1st of October at 7.30 am at ASCPA (Outdoor Cultural Sports Activities of Strasbourg).
A 5 km race through the streets of Strasbourg. This event is for women only. Meeting on the 2nd of October at 9 am at Place de l'Étoile. 
A 5 km walk on the same route as the race. This event is mixed and open to families. Meeting on Sunday, 2nd October from 9.45 am at Place de l'Étoile.
Please note that all these events are subject to prior registration, certain age conditions and the provision of a medical certificate for the race. Find out more information before taking part in this event.  
On the 30th of September, there will be no sporting events on the menu, but the opening of the Village on Place Kléber, in the presence of all the partners supporting this event. They will offer their visitors various activities: supportive care, food stands, promotion of physical activity, etc.…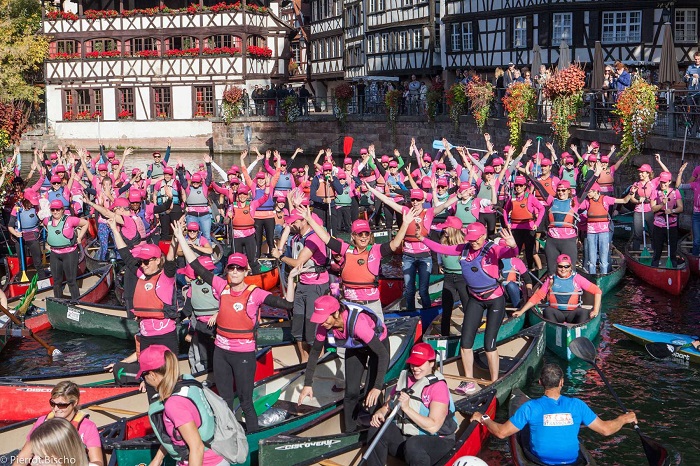 La Strasbourgeoise, a model that now mobilizes the whole department
At its first edition in 2010, 'La Strasbourgeoise' attracted 500 participants. In 2019, nearly 12,000 people came together to run, walk, or canoe and promote the fight against breast cancer.
In 2022, the organizers are expecting about 8,000 participants. 
Does this mean that the mobilization on this issue is running out of steam?
« Claude Schneider, President of the Strasbourg Sports Office explains: "On the contrary. If participation is decreasing, it's because La Strasbourgeoise is being emulated and the number of races dedicated to this cause is increasing in the region. And that's excellent news! ». 
In 2022, a whole region will be involved in pink October, and it won't be just for one weekend.

The commitment of the Eurometropole for 2022 
The Eurometropole will be organizing a whole series of events in October. A model that aims to be dynamic in order to involve as many communes as possible. 
For example, you will be able to admire several monuments in the area illuminated in pink, take part in rollerblade or bicycle rides, attend festive evenings, or take part in an exhibition of objects customised in pink by students from the Ort school in Strasbourg. 
All these events share the same objective: to raise awareness, but also to raise funds to support the research.
Events throughout the region
Events based on the Strasbourg model are now spreading throughout the region! 
Several towns and villages have decided to involve their populations in this cause and will be organizing sports and awareness-raising events for the fight against breast cancer throughout the month of October.
Claude Schneider wishes to develop the Strasbourg event with this objective in mind. Not by increasing the number of participants, but by duplicating its model to make this event the first of a long series of events dedicated to the fight against breast cancer throughout the region.
The challenge is already being met.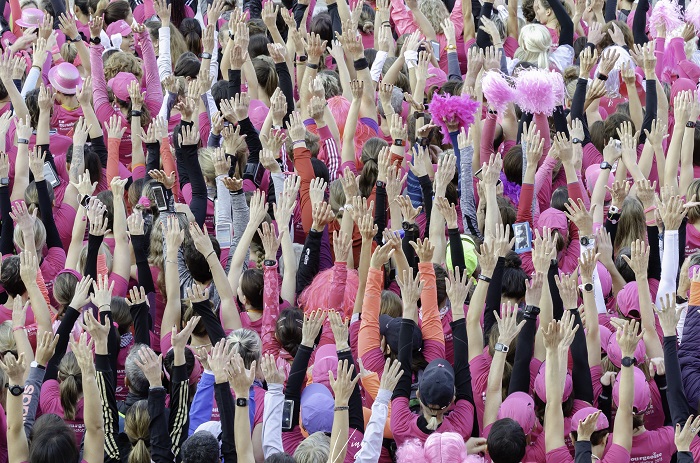 Geraldine Sohet 
Find all the practical information on the website of 'La Strasbourgeoise':
https://lastrasbourgeoise.eu/
From the 30th of September to the 2nd of October, you can participate in La Strasbourgeoise, the sports event that fights against breast cancer.