PINK OCTOBER STARTS THIS WEEKEND, THE NATIONAL CAMPAIGN COMBATTING BREAST CANCER. THE PROGRAMME INCLUDES: SPORTING ACTIVITIES, CONCERTS, ROUND TABLES, AND INITIATIVES DOING THINGS TOGETHER WILL TAKE PLACE IN STRASBOURG ASSOCIATED WITH THE HISTORIC PINK RIBBON.
Each year, throughout October, numerous events are planned in France, and in Alsace to provide information about the disease, encouraging screening and collecting donations for medical research.
ALL IN PINK
One of the highlights of pink October in Alsace is the Strasbourgeoise, a 5-km united race that takes place on Sunday 3 October this year. For its twelfth edition, more than 6,000 participants have registered to date, with the aim of having a fun time, with "united, citizenship approach", explains Claude Schneider, chairperson of the Sports Office. Registration costs twelve euros, five euros of which are donated to ICANS (Institut de Cancérologie de Strasbourg) and CRCDC Grand Est (Centre régional de coordination des dépistages des cancers de la région Grand Est).
More than 400,000 euros have been donated to combatting the disease since the race was created in 2010. The aim is to take part in a solidarity race, have a fun time dressed in pink and remind people how important physical activity is for reducing relapse risks for people who have had breast cancer. If the race started in Strasbourg, it has spread to the towns and villages in Alsace, like Mulhouse, Saverne, Molsheim… The race in Strasbourg will start at 9am, route de Vienne in the Krutenau, and will go along the quais des Bateliers to end at place Gutenberg.
The new element this year is the Strasbourgeoise's firm partnership with the Tourist Office, to be able to distribute pink kits (containing symbolic pink ribbons among other things) in their network of hotels, businesses and other places for create awareness among a wide public. For Batorama too, anybody visiting the shop will be given a pink ribbon. Heritage is being involved in this universal cause too, as certain buildings, and the City Hall in particular, will be lit in pink, and pink ribbons and slogans will be attached to the statues in Strasbourg.
For this occasion the Batorama shop windows as well as the boat glass roofs will be framed in pink. It is a way of showing that "it is not just a sporting event, but cultural, social and solidarity actions as well", by involving everyone involved in the Strasbourg Eurométropole.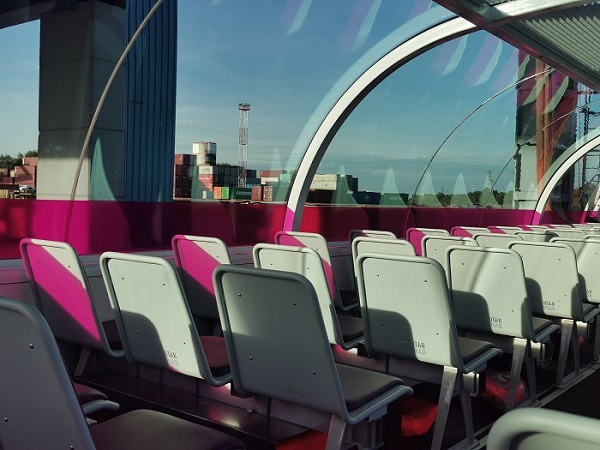 [ALSO READ >> MURIEL SCHNEIDER-KERN, LA MARRAINE POSITIVE]
INFORM, EXERCISE, TAKE ACTION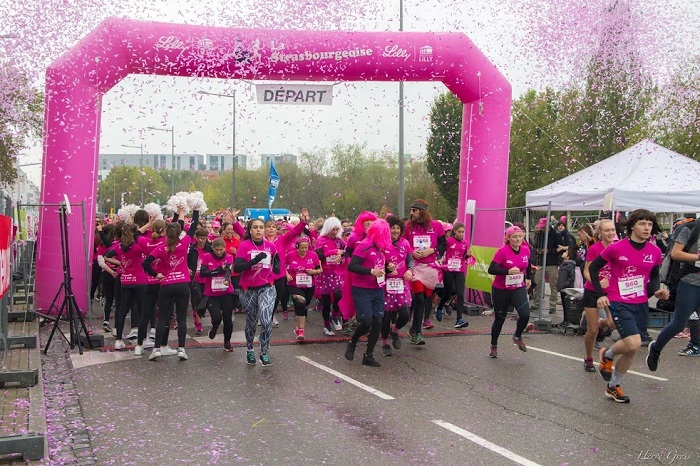 [ALSO READ >> STRASBOURG, LE CENTRE HISTORIQUE SE PARE DE DISCIPLINES OLYMPIQUES !]
Actions for the 2021 edition are highly varied to enable a broad public to take part, for example with Nordic walking and a canoe ride on Saturday 2 October in partnership with the ASCPA (Association d'activités sportives et culturelles en plein air de Strasbourg – outdoor sports and cultural activities association). A village will be set up at place Kléber with partners' stands and activities (awareness, concerts, breakdancing demonstrations).
A large project coordination and administrative team was involved in preparing these events, along with 200 volunteers, and a committed patron (it is Murielle Schneider-Kern this year) as well as various partners (Lilly, Groupama, Caisse d'épargne, Strasbourg Tourist Office, the European Collectivity of Alsace, ICANS, Strasbourg University, UGC…). "We did training sessions in September, tourist site information meetings, sessions with the press. There was the Madame Run too, where women ran towards the Two Banks, from Strasbourg to Germany, which was a way of saying that cancer has no borders. Donations are made to both French and German charities there too". Rollerblading and bike rides are also added to these activities on 8 October.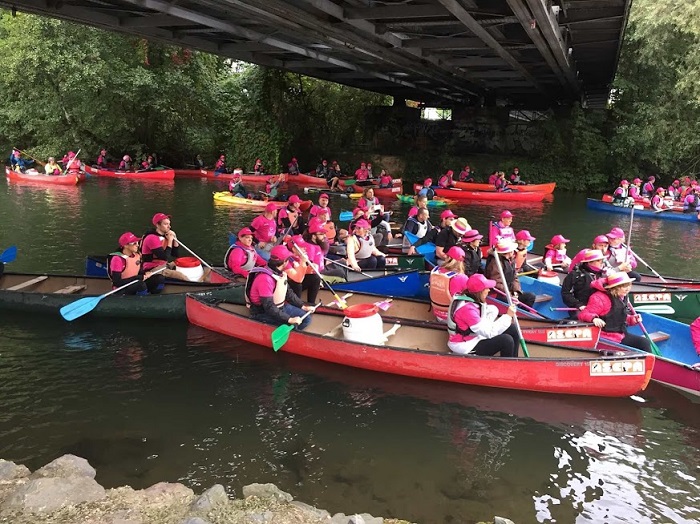 As for cultural activities, a classical singing concert by the Voix de Stras' choir will be given in the auditorium of the Cité de la Musique et de la Danse, round tables at the UGC as well as an exhibition of photographs of people with cancer and the people who support them. As is the case every year for the occasion, a message wall will be at the heart of the village at place Kléber, so that anyone can leave messages of goodwill and hope for those with breast cancer. 
It is a festive and united way to get together to talk about and combat this disease.
Practical information
From 1 to 18 October
Programme on lastrasbourgeoise.eu
Author: Lucie Bousquet 
About the author 
Lucie studied writing and communications, and started her media career at a digital magazine in China. After a few years managing charity and artistic projects, she started writing about tourism and culture. Lucie lives between Strasbourg and Paris, and keeps a close eye on what's happening in the societal and cultural worlds. She also contributes to collective projects focussing on writing and digital technology on a regular basis.